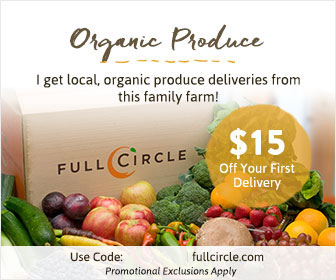 A facebook post flashed across my screen advertising delivery of organic produce.  I'm a huge fan of delivery – it simplifies a lot of things for me and I only use it when the price is similar to my cost to drive and purchase it myself.  My kid loves fruits and vegetables – but only FRESH fruits and vegetables.  Canned fruit has been tolerated – however we're not on a lengthy voyage at sea – my kids should be able to eat fresh fruit in November if they want to – and I've resigned to paying whatever price I need to for my son to eat well.  Enter Full Circle Farms.
They have 4 sizes of boxes to choose from and delivery flexible.  I just received my first order, it was left, just as they promised, very quietly on my doorstep while we slept.  My kid woke up to fresh fruit for breakfast.  The cost is about the same as if I had driven to the trusted organic produce store closest to me and my time spent acquiring the produce.   Boxes start around 27 dollars and delivery is weekly, bi-weekly, monthly or suspend it for longer breaks.
If you live in the South Puget Sound area, you should check out their website.  Here's the coolest part – If you use my secret link, I get a credit to my account, which saves me money – AND you can buy boxes to donate to hungry families too – AND you get a discount on your first order.
Full Circle Farms Referral Link for NATA6499

NATA6499
So click the link above, sign up with my "refer-a-friend" code – then get your own code, refer your friends, and help everyone out!